4th of July Symphony on Your Porch
Note: This event has already passed.
Jul 4 2020, 9 pm
Jul 4 2020, 9 pm
Celebrate the 4th of July from the comfort of your porch!
Colorado Springs Sports Corporation and the Colorado Springs Philharmonic are innovatively hosting the 4th of July Symphony on Your Porch. Bringing fireworks to even more residents across El Paso County as the community is encouraged to stay home, stay healthy, and celebrate the birth of our great nation.
This year continues the 47-year tradition of this 4th of July celebration.
Broadcast starts at 9:00 PM
Fireworks start at approximately 9:20 PM.
Visit CS4thofJuly.org for complete details.
Tune In
Look to one of the ten locations across the Pikes Peak region displaying fireworks while tuning your radio to the stations below to hear musical selections by the Colorado Springs Philharmonic. The fireworks will also be broadcast on KKTV.com
Sunny 106.3 FM
Y96.9 FM
KCME 88.7 FM
92.9 Peak FM
AM 740 KVOR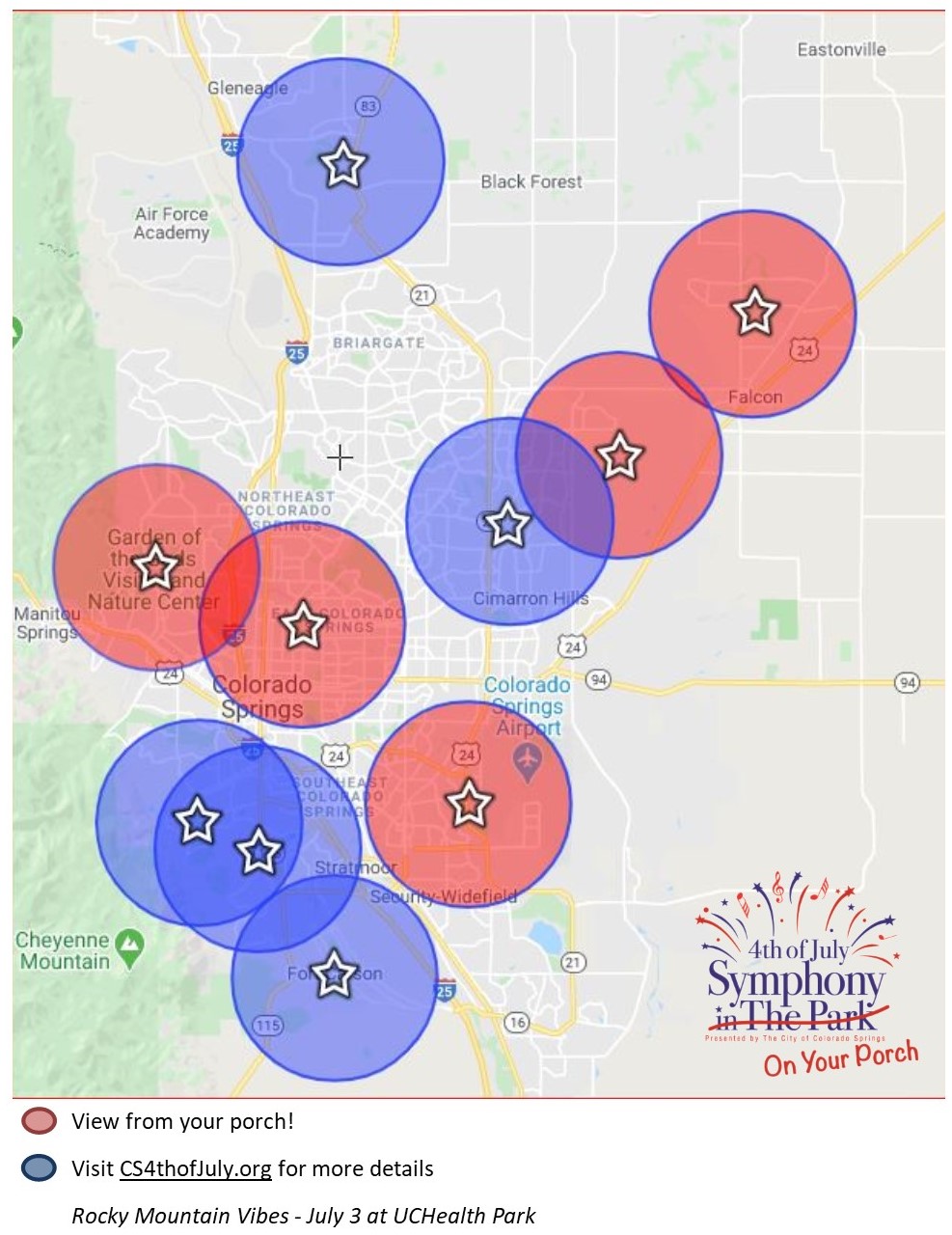 Details
Fort Carson 4th of July Fireworks are available for on-site viewing for DOD ID card holders only.
Fort Carson on-site parking will open at 8 p.m.
The general community and non-DOD ID card holders are encouraged to enjoy the show from their porch.
Patrons are required to stay in the proximity of their vehicle (tailgate, truck bed etc.). If choosing to exit the vehicle to view fireworks, patrons will be limited to the driver's side of the vehicle to maintain social distancing/spacing.
The use of firearms, personal fireworks, and festival-style seating is prohibited.
No concessions will be available on-site at Fort Carson.
Personal-use coolers are permitted on-site at Fort Carson.
All information is subject to change.