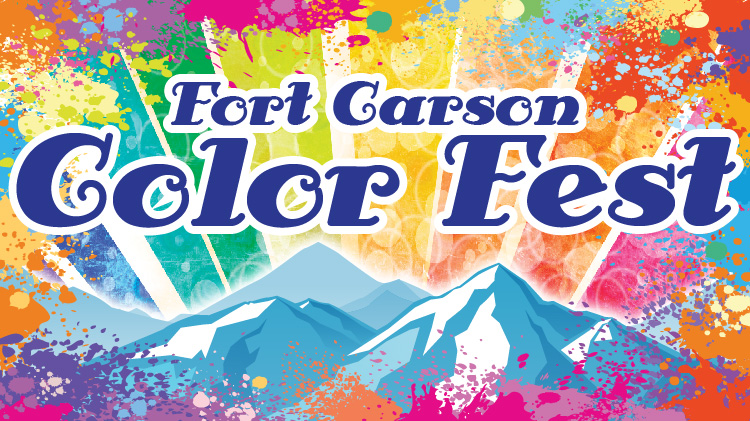 Note: This event has already passed.
Date: Apr 13 2019, 10 a.m. - 2 p.m.
Get ready for Carson Color Fest 2019!
10 a.m.-2 p.m.: Climbing wall, obstacle course, petting zoo, free easter bunny photos, paintballing, bounce houses, music, entertainment plus food and beverages for purchase and more at the fields behind Iron Horse Sports and Fitness Center
10:30 a.m.: Color/Volunteer Run starts at the fields behind Iron Horse Sports and Fitness Center
11:30 a.m.: Egg Hunt at the fields behind Iron Horse Sports and Fitness Center
12 p.m.-2 p.m.: Egg Splash at Iron Horse Pool
12 p.m.-2 p.m.: Softball Tournament
Various organizations and vendors present
Activity wristbands are available for purchase for $5 and include admission to:
Climbing wall
Obstacle course
Petting zoo
Bounce houses
Paintballing
Egg Splash
Outdoor Egg Hunt
Wristbands will be available online shortly, or at the MWR sales tent at the fields behind Iron Horse Sports and Fitness Center. *NOTE: A wristband is required for all participants ages 4 and up.
Check back shortly for updated information on Color Run and Softball Tournament registration information.
Things to know before you go:
Parking
Parking at Iron Horse Sports and Fitness Center is free, space is available on a first come, first served basis.
All personnel must park in designated parking areas.
Parking in prohibited areas will result in a citation and the vehicle being towed.
Please follow the signs for designated parking areas.
Physical Security/Other
Absolutely no personal grills or burners allowed at Carson Color Fest.
Lost children are accompanied by event staff to the main stage and an announcement is made via the speakerphone to make contact with the parent(s)/guardian(s)
100% random personal property inspection in effect.
No personal fireworks or sparklers allowed on Fort Carson. These items are prohibited per FC Regulation 210-2-8.
No firearms and/or weapons allowed.
Privately owned drones/UAV's are not allowed.
No coolers or tents allowed in the festival area.
No glass containers allowed.
Alcohol in private containers is not allowed. Alcohol may be purchased from vendors located in the festival area.
Despite the Colorado amendment to legalize marijuana, possession of marijuana on a federal installation is a violation of federal law.
Pets/Companion Animals vs. Service Animals
No pets or companion animals allowed.
Only ADA service animals are allowed onsite.
Companion Animals are not protected under the ADA.
Under Colorado state law HB16-1426 (effective January 2017), it is a crime to knowingly misrepresent an animal as a service animal.
Traffic
Please observe posted speed limits.
The area around the festival venue will become congested, please slow down and watch out for pedestrians.
Weather
Event goes on regardless of weather. Those attending the event assume the risk of injury as a result of inclement weather.
In the event of lightning, a warning is issued and guests are asked to clear the area and/or return to their cars until an "all clear" announcement is issued.
Terms and Conditions:
All information is subject to change.
No refunds are issued.
No federal endorsement is implied for any paid advertising.
Fort Carson MWR reserves the right to film, record or photograph event activities for post event purposes. Guests are advised that this may result in the incidental inclusion of guests within any recording or photographs.
Guests assume all risks associated with participation in this event including but not limited to traffic and/or weather variations.
The sponsors of the DFMWR Fort Carson Color Fest and associated activities, the Fort Carson Community, its' representatives, and successors are not liable for claims or liabilities of any kind arising from participation in this event even though liability may arise out of negligence or carelessness on the part of the guests in attendance.