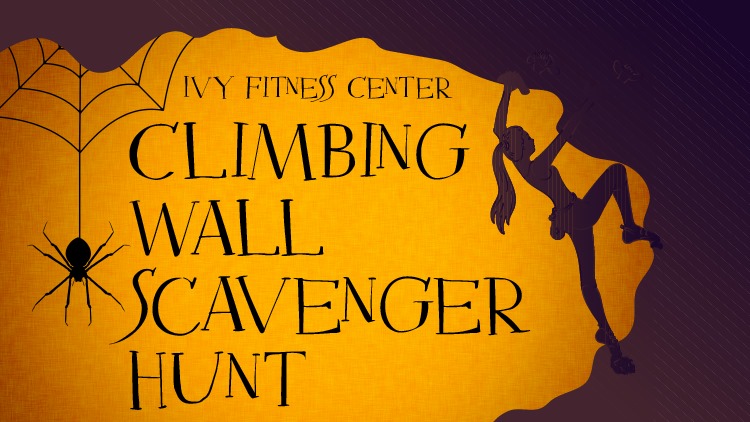 Climbing Wall Scavenger Hunt
Note: This event has already passed.
Date: Oct 26 2019, 1 p.m. - 5 p.m.
Ivy Fitness Center - 6415 Specker Ave Bldg. 1925 Fort Carson 80913 Google Map
All information is subject to change.
Open to eligible DOD patrons and their guests.
Make your kids WORK for their candy! Each scavenger hunt is a mental and physical challenge that leads to a treasure trove filled with sweet surprises.

- $5/child (online service fee not included)
- Ages 8-17
- Parents must be within the climbing area to supervise their children
- Parents can bring snacks and water for kids, approved in the climbing area only
- Little siblings are welcome to watch! Space is limited in the climbing area for stroller parking
- Gear rental included, BYOG if you'd like
- Parental discretion is advised as climbing is inherently dangerous, and discussion of mild theatrical horror in the scenarios is involved
- Everyone is encourage to wear costumes appropriate for climbing! (Long capes and other dangling accessories/cloths are discouraged. Program facilitators reserve the right to deny/allow a participant onto the climbing wall for safety reasons.)
-No alcohol allowed

Each climber's task will be to solve riddles, answer questions, and solve puzzles in order to unlock boxes that are mounted on the climbing wall. In each of these boxes, there is a challenge for the next box and a clue for the final box. Participants will have to solve puzzles on the ground and climb the wall to unlock clues to get closer to the candy jackpot!

Only one person per group at a time can be on the climbing wall to retrieve clues from the boxes. Once all of the clues for the final box are collected, groups will have to solve the final puzzle to collect their prize. A facilitator will guiding the group through their experience, their appropriate scenario and through the rules of the game.

Scenarios:

The Search for Dr. Frankenstein: "Dr. Frankenstein has passed away and his research lab has been locked away forever. Before his death, the Dr. hid clues that would allow worthy individuals to unlock his lab and the secrets to the 'Monster.' Your team has been hired by one of his former students in order to track down the clues and finally reveal the late Dr.'s secrets".

-A Mummy's Tomb: "A famous archeologist has gone missing after claiming to have discovered an unknown tomb in Egypt. No one from his expedition has been heard from since, and the tomb bears a mysterious lock that no one has been able to open. Your team has been hired by the child of the archeologist in order to find their father and unlock the secret of the unknown tomb."

-Tracking a Vampire: "People have been going missing all throughout England. Reports of a mysterious man with blood red eyes walking the alleys at night have been flooding the news. Your team has been hired by a student of Professor Van Helsing, who up until recently was sending letters about his chase for the mysterious fiend. In his last letter to his student, the Professor left a set of clues and a message: 'Come find me if you dare to help...evil forces are about.' "