Color Fest
Note: This event has already passed.
May 22 2021, 10 am - 2 pm
May 22 2021, 10 am - 2 pm
Sign up today!
Click Here
Want to volunteer?
Click here!
Fort Carson's most Colorful 5K is back!
Come celebrate the season with the 2021 COLOR FUN, IN-PERSON
$15/person (ages 4+)
Under 4 is free, no t-shirts given
Strollers welcome
Beverages available for purchase
• Blue Moon
• Coors light
• Coors
• Angry Orchard
• Sam Adams Seasonal
• Seltzer Beer
Food Trucks
Island Style (Click here for menu)
Brisket Brothers (Click here for menu)
Parking Information
• VIP/Handicap Parking is on the Sheridan side of Iron Horse Park
• General Parking is located off of Wetzel
Limited edition Color Fest T-Shirt
Open to DOD ID card holders only. Must have access to Fort Carson. This includes: active duty, dependents, retirees, DOD employees, national guard, reserves, etc.
Limit availability of T-shirt sizes. When registering, please choose your size in the "add-on" portion of the ticket section. If you do not chose an add-on (size), you will be given a shirt based on what is available.
No Pets
Procedures for the Race (COVID19 protocols)
There are no longer wave requirements! Race now starts at 10:30 am!

UPDATE (As of 4-19-21)

Upon arrival, there will be a waiting area in place to ensure safety and social distancing before the designated start time
There will be social distancing procedures in place before and after the race.
Please comply with all race officials to ensure the safety of everyone.
If you feel sick, or have any COVID19 symptoms, or have been in contact with anyone who has tested positive for COVID19, please stay home.
There will be no refunds given
No refunds will be given
Please read all terms and conditions before registering
Packet pick up will take place Tuesday–Thursday, May 18–May 20; 3–6 p.m. at the NEW Intramural Sports Office.
Location: Intramural Sports Office, Bldg. 2031
Map to new office is below
Now offering same day packet pick-up (only if you can't make the earlier dates) Starts at 10 a.m.
By registering for this event, you agree to the following terms and conditions:
Terms and Conditions:
All information contained on carson.armymwr.com are subject to change.
No refunds issued due to late arrival or if access to Fort Carson is denied
This event is only open to DOD ID card holders only. This includes active duty, dependents, retirees, DOD civilians.
No federal endorsement is implied for any paid advertising.
Fort Carson MWR reserves the right to film, record or photograph event activities for post event purposes. Guests are advised that this may result in the incidental inclusion of guests within any recording or photographs.
Guests assume all risks associated with participation in this event including but not limited to traffic and/or weather variations.
The sponsors of the DFMWR Color Fest Color Run 5K and associated activities, the Fort Carson Community, its' representatives and successors are not liable for claims or liabilities of any kind arising from participation in this event even though liability may arise out of negligence or carelessness on the part of the guest in attendance.
Weather:
Event goes on regardless of weather, unless Fort Carson is closed due to inclement weather.
Those attending the event assume the risk of injury as a result of inclement weather
In the event of lighting, a warning is issued and guest are asked to clear the area and/or return to their cars until an "all clear" announcement is issued
Parking:
No parking in residential/base housing/neighborhoods on Fort Carson.
Parking is free, space is available on a first come, first served basis.
All personnel must park in designated parking areas.
Parking in prohibited areas will result in a citation and the vehicle being towed.
Please follow the signs for designated parking areas.
Physical Security/Other:
FULL LIST OF PROHIBITED ITEMS AND BAG POLICY APPLIES
100% random personal property inspection in effect.
No firearms and/or weapons allowed.
Privately owned drones/UAV's are not allowed.
No bikes/scooters/hover boards/skateboards/rollerblades allowed
Traffic:
Please observe posted speed limits.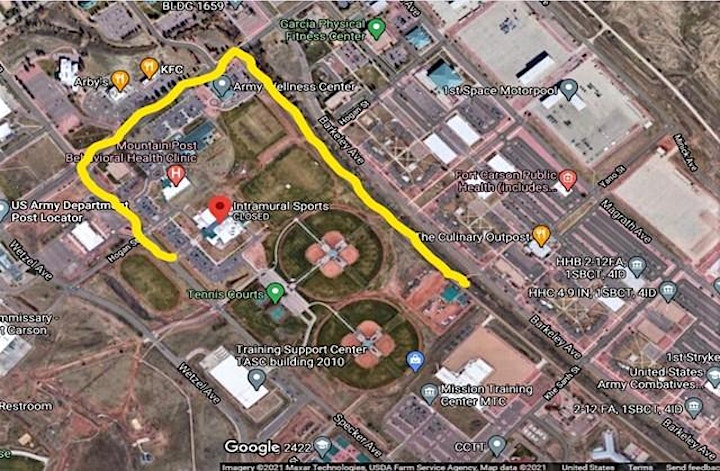 FREQUENTLY ASKED QUESTIONS
CARSON COLORFEST: Saturday, 22 May 2021
Iron Horse Park
Is the run hard?
No, that's no fun! This is a fun run with lots of color, and lots of fun, not racing! This run is the best way to be crazy with friends, and family. You won't be timed, so there is no pressure to hurry and get 'er done. There will be multiple stations along the course for an extra fun bonus. Stations could include, but not limited to: color powder, foam, obstacles, and water. Please dress appropriately.
Can I Walk?
Yes! You will be one of many who will be walking. We don't time the race and it is non-competitive, so you won't feel any pressure.
What time does the run begin?
The run will begin at 10:30AM. We recommend getting there at 10:00 AM so you have plenty of time to park and warm up!
Are kids allowed?
Yes! All kids must be registered in order to participate. Children under 3 years old are free. We do recommend that your kids are properly protected with sunglasses, and for toddlers and infants, something to cover their mouth.
Can I run with my dog?
No. Dogs, cats, llamas and other pets are not allowed at The Carson Color Fest.
How do I volunteer?
We'd love to have you come and help as a volunteer. Volunteers typically throw color on the participants, and/or help with registration, and clean up. Please contact Lorraine Thorson at lorraine.thorson.naf@mail.mil or 719-526-5772, if you would like to volunteer.
What is the color made of?
The color powder we use is custom manufactured and produced right here in the United States. It is made from food grade quality cornstarch. It is non-toxic, is 100% safe, and also biodegradable. As with any substance, you will want to keep it out of your eyes and lungs. If you are overly sensitive, you may want to wear glasses or goggles for your eyes and use a bandana or dust mask for your mouth.
What should I wear? Will the color stain my clothes, shoes, or makeup?
You can wear whatever you want but we suggest white clothing because it shows up the color the best! The color does mostly wash out after the event, but some of it can stain. We suggest wearing items that you wouldn't mind getting the color on.
Will the color get in my car?
Bring a towel or some plastic bags along, and you'll be just fine. However, if you do get some in your vehicle, it can be dusted away or vacuumed easily.
RELEASE AND HOLD HARMLESS AGREEMENT
By entering and participating in this Fort Carson DFMWR event/program/activity, you consent to the following: I desire to participate in this Fort Carson DFMWR event/program/activity.
This is an event/program/activity hosted by the Directorate of Family and Morale, Welfare and Recreation. I expressly agree that I, myself, my heirs, personal representatives, and assigns, hereby release and discharge, and agree to hold harmless and indemnify, the United States Government, the United States Army, Fort Carson, Directorate of Family and Morale, Welfare and Recreation, Sponsors, Donors, and their officers, agents, and employees acting in their official capacities, from liability and from any and all
claims for any illnesses, injuries, loss, death, or damage, whether latent or patent, which may occur
as a result of my participation in any of the activities that are offered as part of the program/event/activity, or occurrences incident thereto.
I agree to comply with all safety instructions and requirements. I expressly assume all inherent, known or foreseeable risks and dangers involved in participating in the described activity. By purchasing, I specifically release and discharge, and agree to hold harmless and indemnify, the agencies, personnel, and sponsors listed above from liability and any and all claims for all illnesses, injuries, death, loss, or damage, whether latent or patent, that result from or are contributed to, by my use of Government property, Fort Carson facilities, and my participation in any activity associated with the event/program/activity.
I also grant permission to all the foregoing to use photography, videography, motion pictures, or any recording of this event for any legitimate purpose.