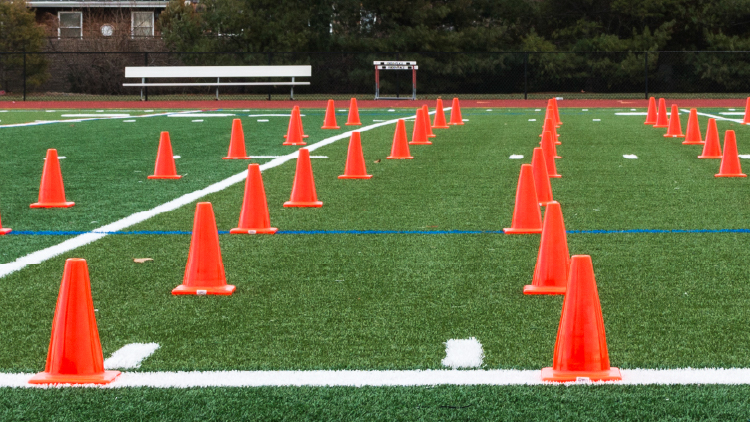 Note: This event has already passed.
Date: May 14 2020, 12 a.m. - May 31 2020, 11:59 p.m.
Earn Commander's Cup points and bragging rights!
Post your results on our event page! https://www.facebook.com/events/528084591218397/
Compete with the clock and the community in this challenge against time!
Start timer!

Reps

40-yard Dash

It's all about speed, explosion while being timed.
Starting from a three-point stance sprint for 40 yards.

10

Broad Jump/Frog Jump

Start out with a balanced stance and then explodes out as far as you can. Test your explosiveness and balance.. because you have to land without moving!

10

Shuttle Runs

The short shuttle is the first of the cone drills. It is known as the 5-10-5. Tests your lateral quickness and explosiveness in short areas. Start in the three-point stance, explodes out 5 yards to the right, touch the line, go back 10 yards to their left, left hand touches the line, pivot, and then turns 5 more yards and finishes.

10

Tire Runs

Sprinting through tires laid in a zig-zag pattern will help to develop your speed, agility, endurance and leg strength. Begin at one end of the tires, and step into each tire with one foot, one at a time. Do this as quickly as possible, making sure to lift your knee up high after stepping out of each tire to avoid tripping. Once you get to the end of the laid out tires, repeat the process by sprinting through the tires back to starting position.

10

Box Jumps

This involves jumping up onto a large stable box approximately two to three feet high (depending on your height). Box jumps promote power and muscle building as the vertical power jumps do, but with a little variation. Begin by standing at the foot of the box, about eight inches away. Jump up onto the edge of the box, stand up straight, then jump back down to starting position.

10

Bench press/Push-Up Ladder Drill

Start with 1 push up/2 push ups/3 push ups/4 push ups/5 push ups/6 push ups/7 push up/8 push ups/9 push ups/10 push ups

Total push ups: 55

Stop timer and record your time!
12 points per person
20 points for top 3 in Unit
50 points for Fort Carson's fastest time
Setup course with cones, tires and boxes (Approximately 5 and 10 yards)
Complete exercises 1-6 with quantity noted for each exercise (10)
No stopping timer until all exercise are complete. Even when transitioning from one exercise to the next
Record time and submit fastest times to unit.
Units will submit top three times to Intramural Sports.