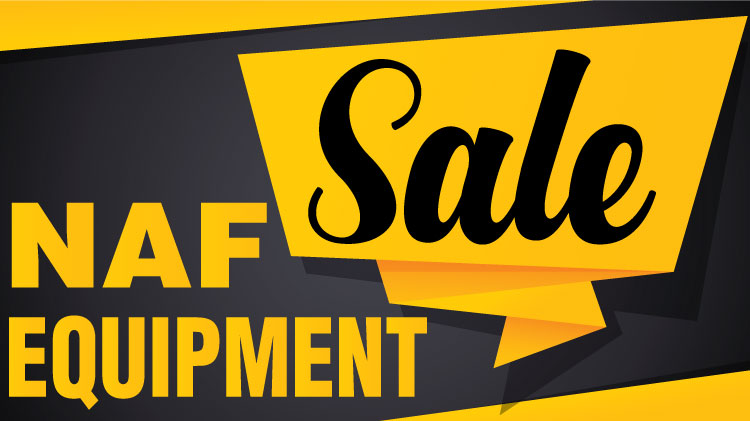 Fall Haul: NAF Equipment Sale
Note: This event has already passed.
Date: Oct 26 2017 - Oct 27 2017
MWR Supply Warehouse - Bldg. 2029 Fort Carson, Colorado 80913 United States Google Map
*All information is subject to change
Sept. 28, 2017: 8 a.m.-5 p.m. Oct. 26, 2017: 8 a.m.-5 p.m.
Sept. 29, 2017: 9 a.m.-2 p.m. Oct. 27, 2017: 9 a.m.-2 p.m.
Up for Sale:
Computers, monitors, laptops, scooters, spring boards, steel chairs with cushions, propane outdoor heaters, framed posters and mirrors.
Monitor, 22", 19" 17"
CPU: 780, 790, 760
Laptop: E6530, 1510, 6500, 6540
Freezer, upright, Frigidaire
Guitar, Acoustic
Youth Street Hockey Equipment
Child 4 wheeled scooters
Child Gymnastic spring boards
Metal framed cushioned chairs
Outside Propane Heaters
Various pictures and movie posters
Mirrors
Arcade games
Ghost Squad Evolution
Extreme Hunting
Cruis'n World,
Hydro Thunder
Cruis'n Exotica (2)
Neo-Geo
Terms and Conditions:
No reservations or layaway.
Some items are new, most are used and as is.
Computers have hard drives, but no operating system.
Most items are set at a fixed priced and some items are silent bids.
Silent bid items will have a minimum bid and sold to the highest bidder.
Eligibility:
Open to military, retirees, DOD civilians, and non-DOD civilians who can access the installation.
Warehouse Location:
Cost
| | | |
| --- | --- | --- |
| Item | Available | Price Per Item |
| Monitor, 17" | 6 | $25 |
| Monitor, 19" | 12 | $35 |
| Monitor, 22" | 2 | $50 |
| Dell Optiplex 760 | 25 | $50 |
| Dell Optiplex 780 | 28 | $75 |
| Dell Optiplex 790 | 12 | $100 |
| Dell Lattitude 151 | 3 | $75 |
| Dell Lattitude 6500 | 4 | $100 |
| Dell Lattitude E6530 | 6 | $150 |
| Dell Lattitude E6540 | 8 | $200 |
| Freezer, upright, Frigidaire 2 $ 150.00 $ 300.00 | 2 | $150 |
| Guitar, Acoustic | 2 | $100 |
| Youth Street Hockey Equipment | 20 | $10 |
| Child 4 wheeled scooters | 30 | $5 |
| Child Gymnastic spring boards | 2 | $50 |
| Metal framed cushioned chairs | 20 | $15 |
| Outside Propane Heaters | 2 | $50 |
| Various pictures and movie posters | 10 | $25 |
| Mirrors | 2 | $75 |
| | | |
| --- | --- | --- |
| Item | Available | Price Per Item |
| Ghost Squad Evolution | 1 | $400 |
| Extreme Hunting | 1 | $300 |
| Cruis'n World | 1 | $300 |
| Hydro Thunder | 1 | $300 |
| Cruis'n Exotica | 1 | $300 |
| Cruis'n Exotica | 1 | $300 |
| Neo-Geo | 1 | $100 |
| | | |
| --- | --- | --- |
| Item | Available | Price Per Item |
| Coffee Table | 9 | $30 |
| Love Seat | 9 | $50 |
| Chairs | 30 | $20 |
| End Table | 4 | $20 |
| | | |
| --- | --- | --- |
| Item | Available | Price Per Item |
| Portable Scoreboard | 1 | $50 |
| Rebound Skee-Ball game | 10 | $20 |
| Mini-Super Sports Disk | 19 | $10 |
| Super-Safe Floor Hockey Set | 2 | $25 |
| | | |
| --- | --- | --- |
| Item | Available | Price Per Item |
| Scout Camping Trailer | 9 | $1500 |
| A-Liner Camping Trailer | 6 | $1000 |
| Whitewater Raft | 6 | $800 |
| Kavak | 4 | $75 |
| Raft | 6 | $800 |