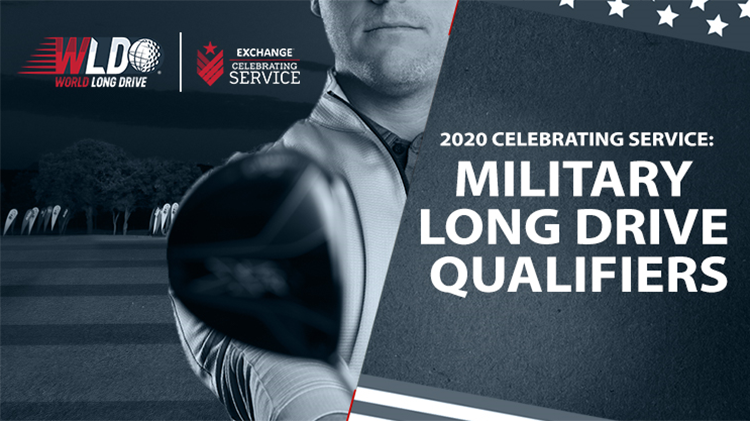 Military Long Drive Qualifier 2020
Date: Apr 19 2020, 1 p.m.
Cheyenne Shadows Golf Club - 1050 Titus Blvd. Bldg. 7800 Fort Carson 80913 Google Map
Swing big, win big!
1ST PLACE
$400 Pro Shop gift certificate + entry to MLD Championship at Fort Jackson, South Carolina fort a chance to win $10,000!
2nd Place: $250 Pro Shop gift certificate
3rd Place: $150 Pro Shop gift certificate
Win gift certificates and prizes from the Pro Shop!
The 2020 Celebrating Service: Military Long Drive Championship qualifiers, presented by The Exchange and World Long Drive with Norton Life Lock, will include participants at 12 military installations across the U.S.
Winners from each installation advance to Fort Jackson for a chance to win $10,000 and an invitation to the 2020 World Long Drive Championship.
Rules
Active Duty participants who compete in qualifying and championship events must do so on their personal time.
The $25 entry fee purchases one attempt of eight drives. Participants may purchase additional attempts until the garrison closes the event.
Each entrant completes the eight drives back-to-back.
Participants will use only USGA-approved drivers (maximum 48 inches long) during the event.
All drives coming to rest within the grid will be recorded on the scoresheet. Drives exiting the grid will be graded at zero yardage.
The longest drive recorded for the day is the winner of the qualifying round. A three-attempt tie breaker will determine the winner in case of a tie.
Active Duty participants must take regular leave to attend the championship event at Fort Jackson.
Championship Details
Fort Jackson, South Carolina: May 17–19, 2020
Cost
$25/round (8 tries per round)
Registration Info
The 2020 Military Long Drive Competition is open to all Active Duty, Retired, Reserve, Coast and National Guard members as well as, all Military Service Veterans at least 18 years old with valid ID.
Contact