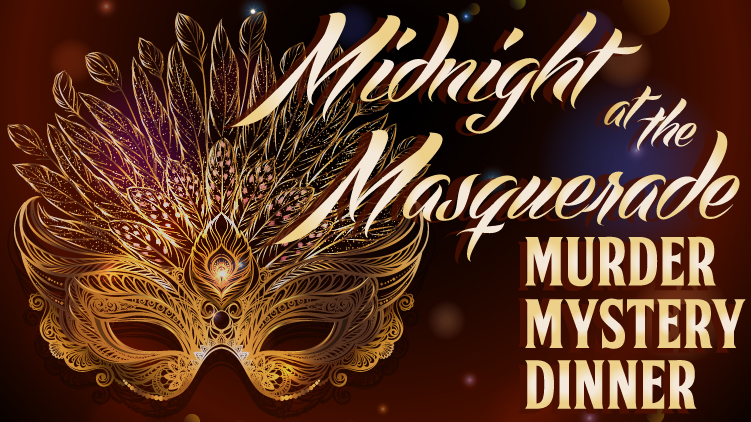 Murder Mystery Dinner: Midnight at the Masquerade
Note: This event has already passed.
Date: Sep 8 2018, 6 p.m.
Elkhorn Catering & Conference Center - 1725 Woodfill Rd. Bldg. 7300 Fort Carson 80913 Google Map
All information is subject to change.
Join us for an interactive dinner show where mystery is served along with the main course.
Price of admission includes one drink voucher, dinner, and a performance.
Schedule
5 p.m.-5:45 p.m.: Cocktail hour starts at 5 p.m. and doors open at 5:30 p.m.
5:45 p.m.-6 p.m.: Seating time
6 p.m.: Dinner and show start promptly at this time. We ask that everyone please be seated by then or we'll all miss a big part of the story.
6 p.m.-8 p.m.: Duration of show and dinner
FAQ's
Note to the general public: Gate access procedures apply.
Ages 13+ only. Parental discretion is advised.
No childcare onsite, please plan accordingly.
Must be 21+ to purchase alcoholic beverages: 100% ID check. No ID. No sale.
Limited number of tickets available for purchase.
All sales are final, no refunds issued.

Get ready for a glamorous evening of mystery, intrigue, and murder:
The rustle of silks and feathers under muted conversation was probably the last thing heard by the tragically and unexpectedly deceased at the Billionaires' Club Annual Masquerade Ball. With a mystery under each feathery façade, unmasking the killer may be quite a challenge. It's up to you to determine which partygoer is guilty, bring this crime to justice, and save the party!

Attend the Billionaires' Club Annual Masquerade Ball and help get this soiree back on track by trading clues with your guests, gathering information, and solving the crime before the masked menace gets away! Evening wear, ball gowns, Venetian masks, suits, and tuxedos are what to wear to this high class night of masks and murder.

What is #MountainPostLiving?
It is a journey for greater health in mind, body and spirit that everyone, no matter their starting point or where they live, can participate in. There are so many great resources at Fort Carson and in the greater Colorado Springs community, and this wellness journey connects us to them. Whatever your preference, (individual, couples, families, groups or teams) you can take advantage of this journey and grow healthier and more resilient every day.
The end result: every Soldier and Family assigned to the Mountain Post will be encouraged, educated and inspired to live a balanced life of all-around wellness.
Visit MountainPostLiving.com to learn more.