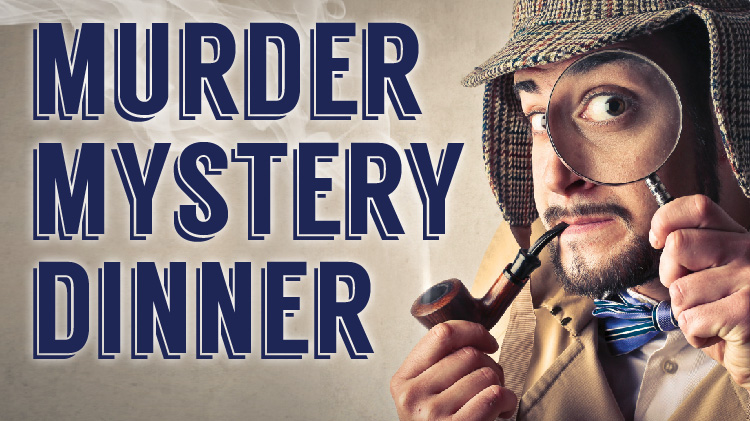 Date: Apr 14
The Elkhorn - 1725 Woodfill Rd. Bldg. 7300 Fort Carson, Colorado 80913 United States Google Map
The Directorate of Family & Morale, Welfare & Recreation (DFMWR) will host a Murder Mystery Dinner at Elkhorn Catering and Conference Center.
Join us for an interactive dinner show where mystery is served along with the main course.
Price of admission includes one drink voucher, dinner, and a performance.
Cocktails served from 5:30 p.m. to 6:30 p.m.
The hour of intrigue and deception begins at 6:30 p.m.
Sign up if you dare to unravel the mystery!
The theme is Crime and Pun-ishment!
Things take a turn for the gutter at Mafia Don Lou Zar's juice joint when someone is put on ice! The crowd is chock full of potential suspects. Jealous, jilted lovers, a rival Mafioso, and a pair of undercover feds make an appearance at this speakeasy and not a single person is muttering a word! Help find out who's on the level and who's on the lam by trading clues with your guests, gathering information, and solving the crime before the murderer hotfoots it out of there!
Dress for this night of murderous mayhem includes flapper dresses, zoot suits, feather boas and headbands, pinstriped suits and fedoras. If you aren't feeling that jive you can dress as a private detective to help solve the crime, just don't frame the wrong guy!
FAQ's
Note to the general public: Gate access procedures apply.
Ages 13+ only. No childcare onsite. Parental discretion is advised.
Must be 21+ to purchase alcoholic beverages.
100% ID check. No ID. No sale.
Limited number of ticket available for purchase.
All sales are final, no refunds issued.